Smart Air Purifier 4 Lite
Breathe clean, breathe healthy
Dust and pollen filtration
|
Smart control
|
OLED display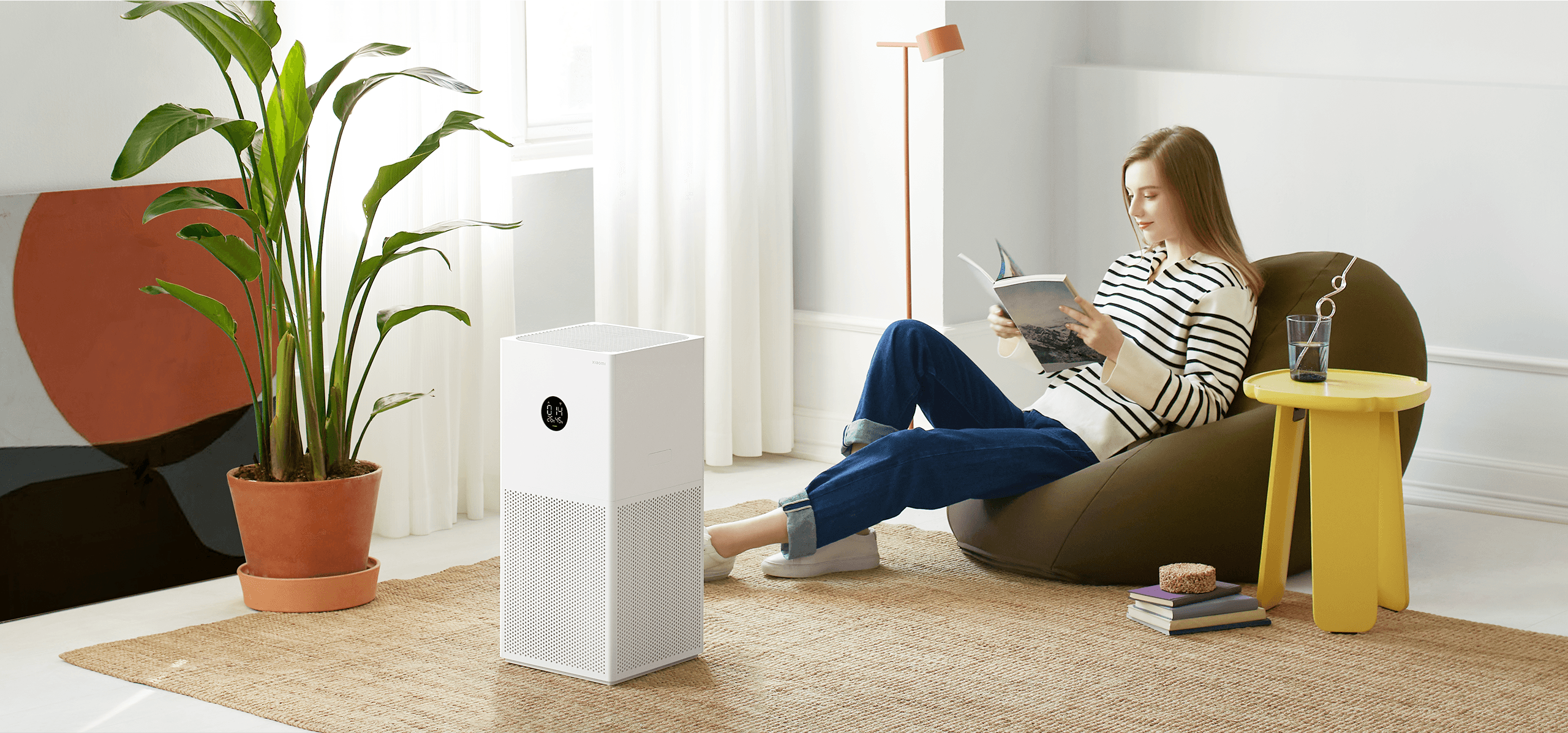 Powerful filtration, outstanding results
Consistent, powerful filtration
Easy breathing at all times
Xiaomi Smart Air Purifier 4 Lite has a particle CADR of up to 360m³/h* and is able to deliver 6000L of clean air per minute*. Powerful purification speeds keep the air in your home cleaner for longer.
25-43m²
Effective coverage area*
Triple-layer filtration for clean air Better living in an instantThree-in-one filter, 99.97% filtration of 0.3μm particles*, ayer-by-layer filtration of air pollutants. Goodbye to breathing hazards and hello to clean, fresh living.

Pet hair

Pollen

Dust

Smoke

Dander

Cotton fibre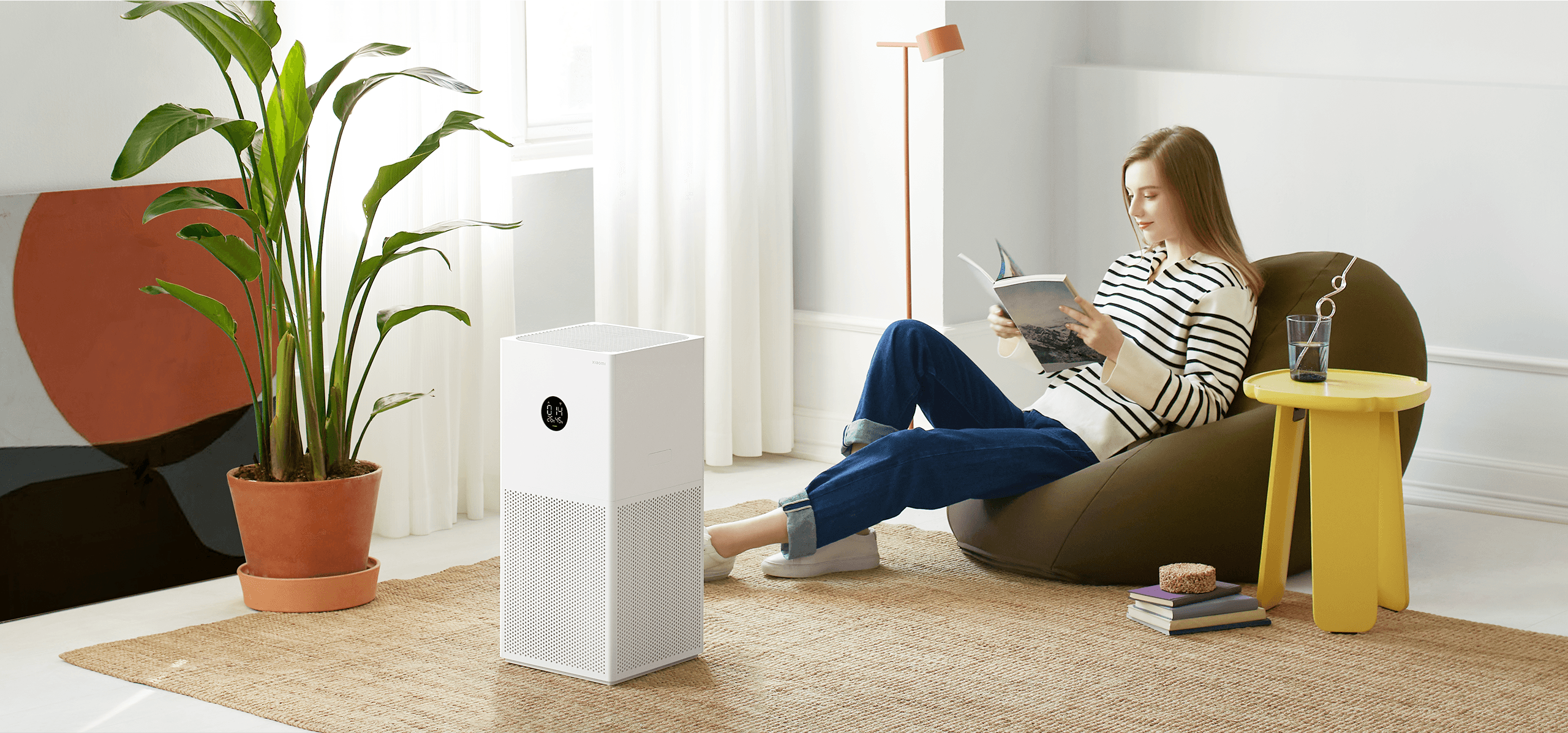 Powerful odour elimination at home Go out into the world with one less worryThe activated carbon absorption rate is 1.8 times higher*, allowing for the effective removal of common harmful gases such as VOC from your home, as well as odour elimination to keep your air fresh.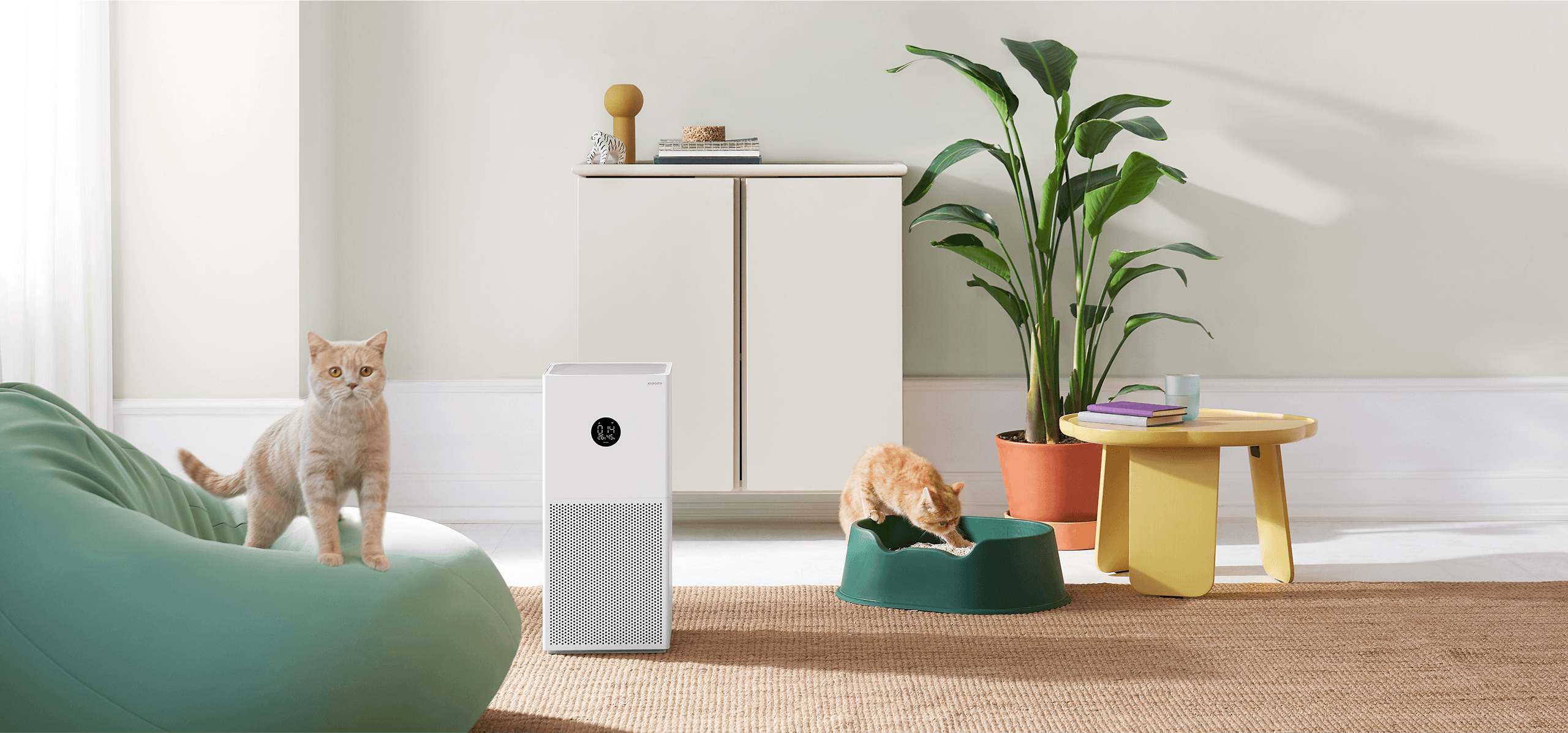 The beauty's in the details, everything you could ever need
Just one filter for up to one year's usage
Everyday freshness with a long-lasting filter
The filter, made from large-area high-efficiency filter and large volume high-quality activated carbon, can last 6-12 months. No need for frequent filter replacement.
High-efficiency filter expanded area*
High-quality activated carbon content*
Filter replacement reminders
Connect to the Mi Home/Xiaomi Home app and simply replace your filter when notified
Smart remote control
Come home to clean, fresh air
With support for smart control, ensure that you always return to a home filled with clean, fresh air. Use the Mi Home/Xiaomi Home app from your smartphone to enable purification when away from home.
Voice-control supportActivate your purifier with your voice*


Ok Google,Turn on the Air Purifier
Alexa,Turn off the Air Purifier
Dare to explore the unknown Use the LED display for real-time PM2.5 data, indoor temperature and humidity readings, as well as Wi-Fi status and operating-mode information. Check air quality with the colour-coded light strip, and enjoy automatic adjustments to the optimal purification mode.
Temperature and humidity sensor
Real-time room temperature and humidity feedback.
High-precision laser sensors
Get a glimpse into a microscopic world with sensitive monitoring of particles as small as 0.3μm.
Clean air without the disruptions
Keep your evenings peaceful
The low-noise 33.4dB(A) Night Mode* allows the display light to be turned off. Sleep sound at night with no late-night disruptions.
Energy-saving purification, effective protection
At the maximum output, power is as low as 33W, meaning only 0.8kWh are needed for 24 hours of purification*.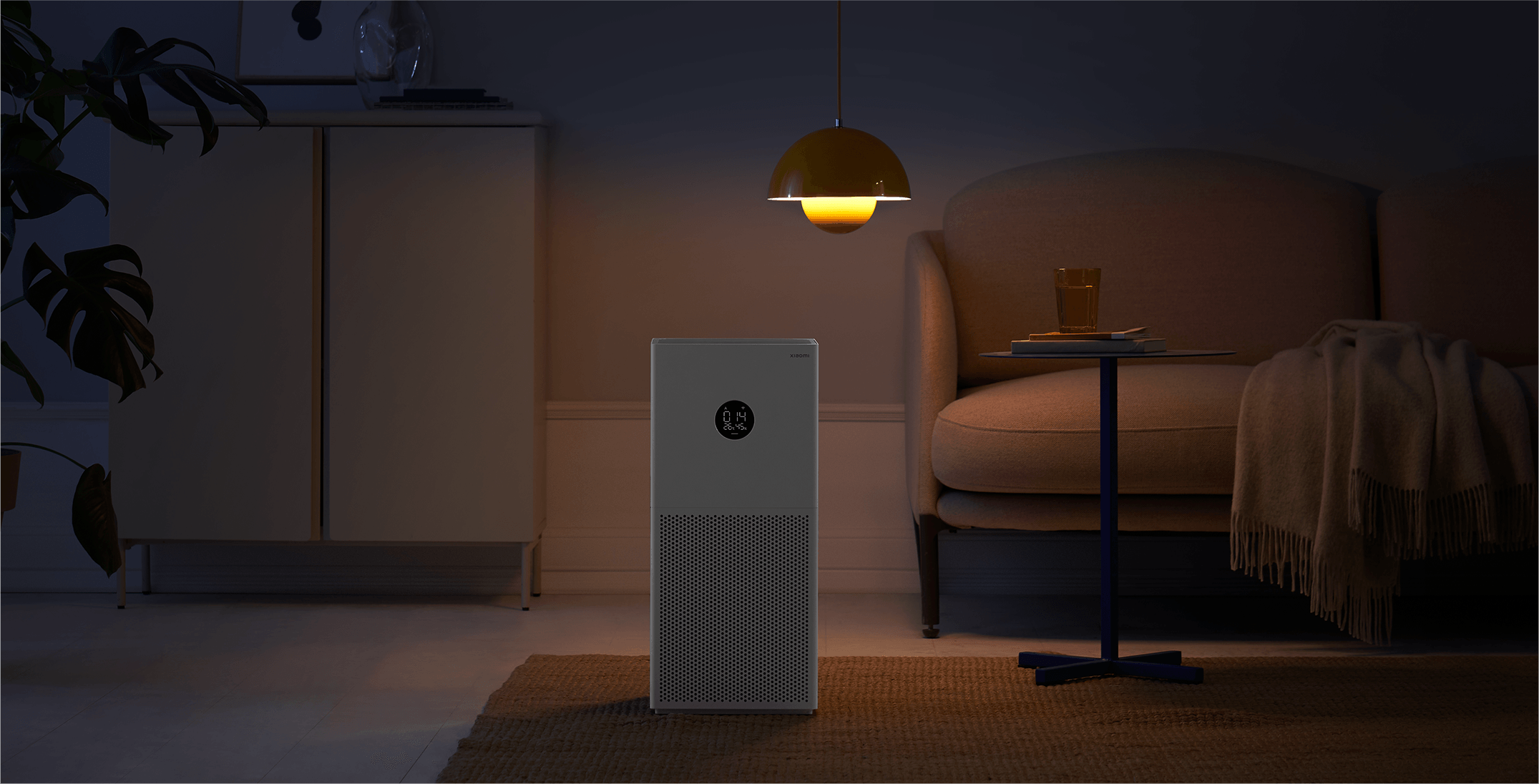 Goodbye rounded edges
Hello sleek, square edges with a distinct style
Square design with clean-cut chamfer edges. Give your home a personal touch.
Symmetrical grille
Aesthetically pleasing, smooth air output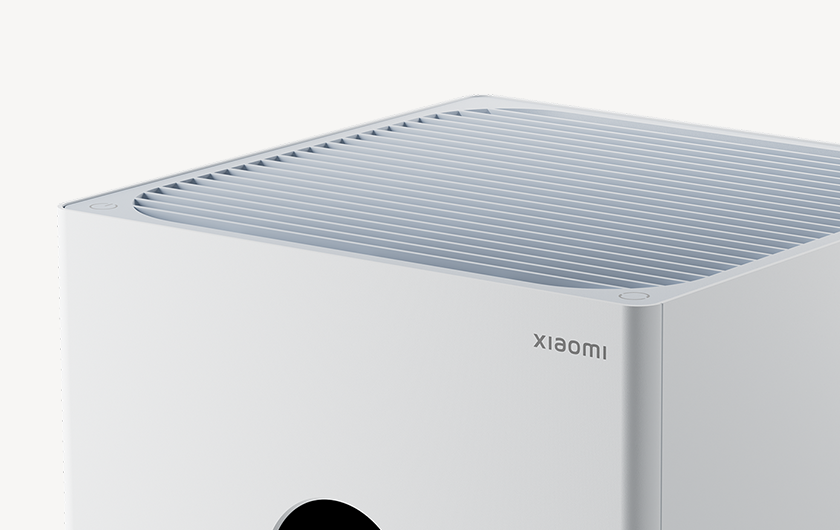 Anti-oxidant ABS body
Durable, long-lasting feel
Pick it up, put it down
Compact protection for your home
With a base area smaller than that of an A4 sheet of paper*, you can easily store your purifier in small spaces. Carefree purification that saves you space.
Three-step filter replacement
Revitalise your air in an instant
Replace the filter in three easy steps with the open-up structure. Easy and effortless.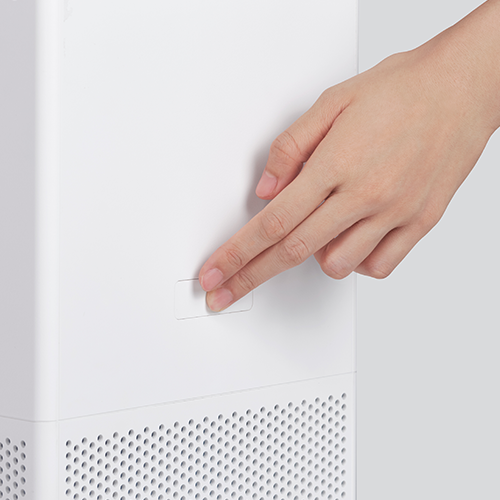 Step 1
Press the clip to open the filter element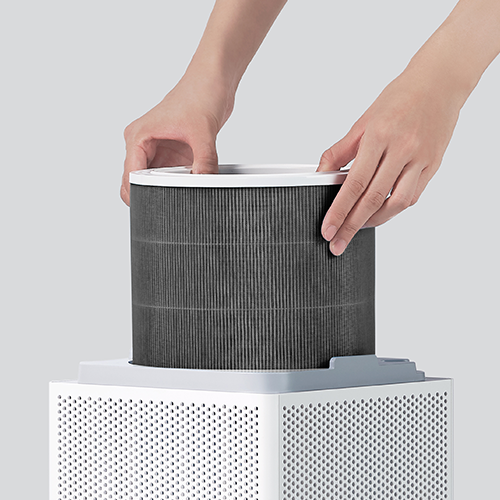 Step 2
Lift the old filter out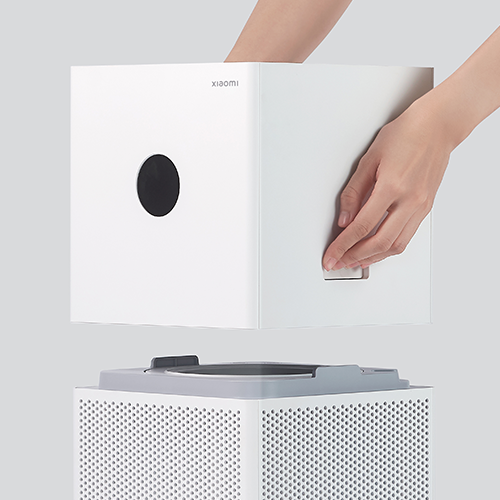 Step 3
Install the new filter and replace the top cover of the filter
*Ensure that the purifier is switched off and unplug the power adapter before taking any of the following actions.
The difference between Xiaomi's High Efficiency Filter and conventional HEPA Filter
Combining two filter technologies: Electrostatic charge and mechanical filtration, Xiaomi's High Efficiency Filter media can remove 99.97% of airborne particles of 0.3 micrometers in size and traps dust, PM 2.5, pollen, pet dander, smoke and tiny particles. Compared to a conventional HEPA filter, Xiaomi's High Efficiency Filter allows the air purifier to generate less noise and consume less energy by allowing more airflow to pass through the filter all the while keeping the same cleaning efficiency.
Xiaomi's High Efficiency Filter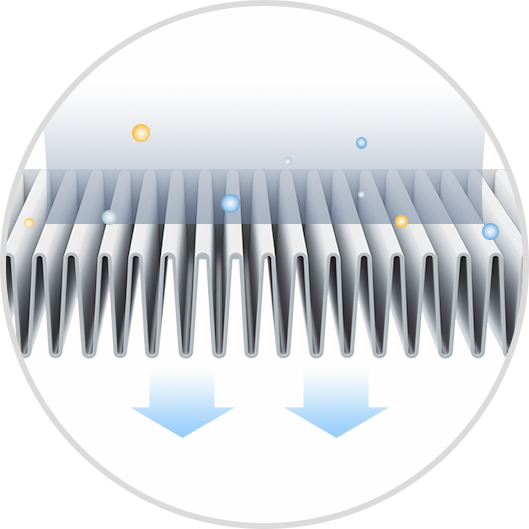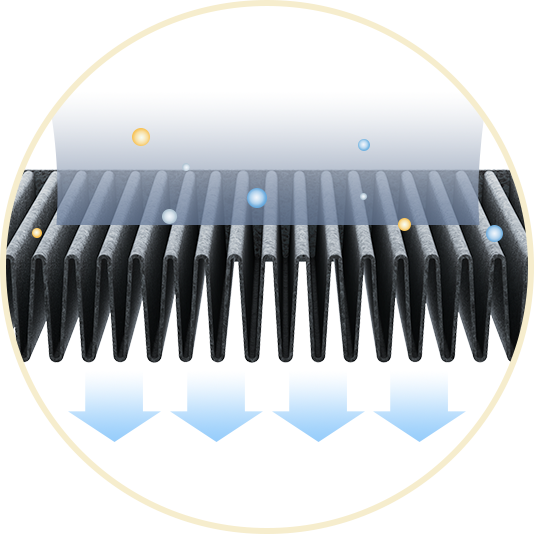 HEPA filter is made of dense fiberglass to trap particles, which means that less clean air get through the filter.
Xiaomi's filter integrated melt-blown PP fibers with electrostatics technology equipped with bigger fibers space, which enables a large volume clean air to get through the filter.


Large volume air is forced to get through a dense HEPA filter, requires higher fan speed, which will generate higher noise.
Less dense fibers filter is easy to have the air passed even in a high speed, which results in much lower noise.

Higher energy consumption

In order to get more clean air, HEPA filter requires the motor to run at a higher speed, which causes higher energy consumption.
Thanks to a less dense fibers filter, Xiaomi's filter consumes less energy to achieve the same volume clean air.