AGA Portable Car Jump Starter Kit (A39)
Capacity: 3.7V 37Wh LiCo02
Input: 9V/2A
Output: QC 3.0 9V/2A,5V/2A
12V -16V start the car
Start Current: 300Amps
Peak Current: 600Amps
Operating temperature range: -20℃~60℃
Size:175×87×36mm
Weight: About 500g
Certificate:CE ROHS,FCC,MSDS,UN38.3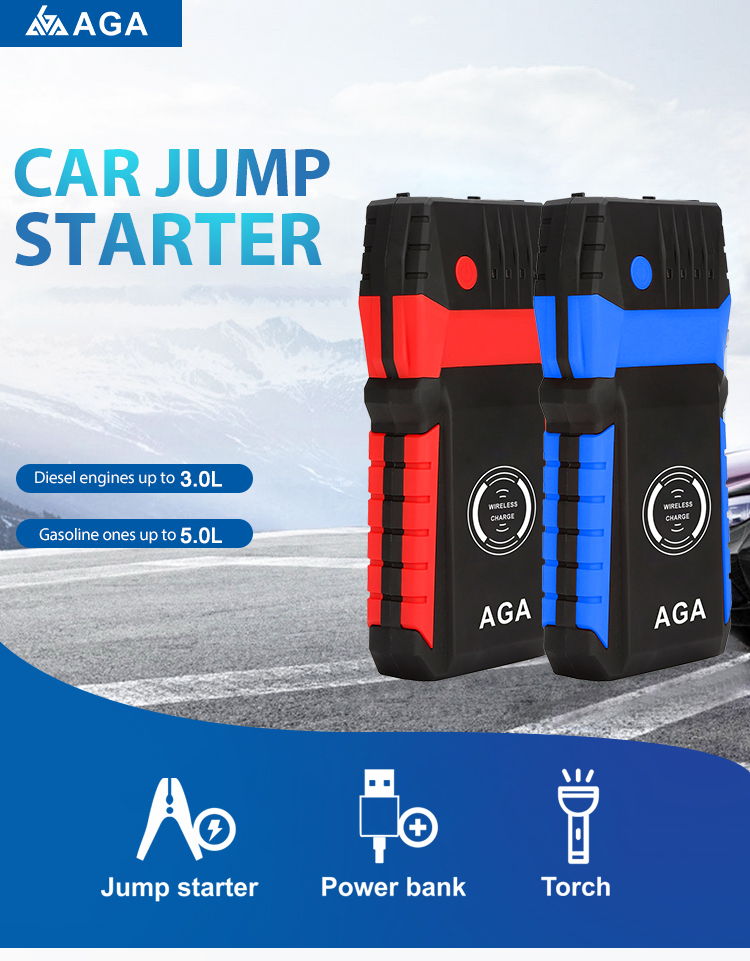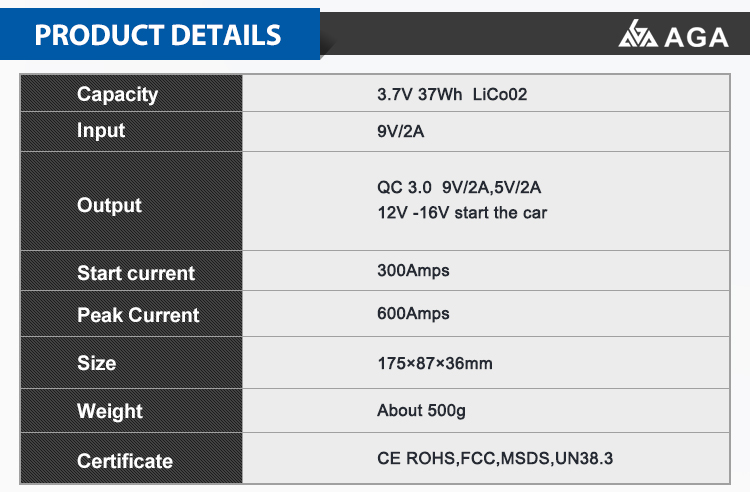 Tips for Using Car Jump Starters
1.Pack it properly
Just like any other electronic devices, they require a set of cables/ connectors that will be used to charge them. Many people using jump starters are quick to use them when in need. However, after they have solved their problem, they stuff them back into the car without stopping to check if they have put in all the cables for the next time they will need them. It is always good practice and recommended that you properly pack the jump starter with its connectors properly.
2.Charge after use
The fact that they are portable jump starters means that you will be in a position to restart your car even when you are in a deserted place. However, for this to work, you will have to have the battery charged beforehand. If it is not charged, the jump starter will be as useless to you as a phone with no signal in an emergency. Therefore, immediately after use, you should make it a point to recharge the battery.
3.Store AGA car jump starter in cool & dry place
You should need to understand the importance of storing the emergency jump starter of your car in one cool and dry place. Through this, you will always be sure that what you get will be the best in the entire market whenever you need it as opposed to other options that you may need when looking for one in any of the market. When you do improve this, you will always know what to do even as you try to get that best emergency jump starter of the car that you need in within the shopping outlets.
 4.Switch the power off after using it
When you do not use your car, you should always make sure that you switch it off since this will give jump starter portable some rest at the same time increasing its durability when using it. You should never use the jump starter portable since this may have some effects when using it in the best way possible.