Your partner for musical mood lighting
Have fun with friends or simply relax by setting the mood with both music & light. Now you can stream your music to your StriimLIGHT anywhere a lamp is available.
Main features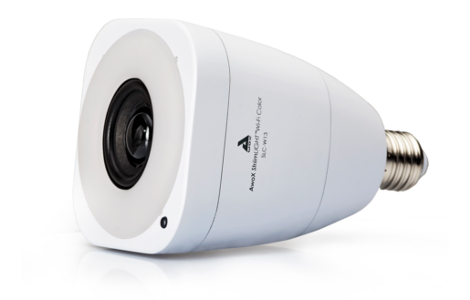 Light up your music
This multi-functional light bulb also works as a Wi-Fi repeater that can extend the coverage of your Wi-Fi network. Now with StriimLIGHT, not only you will be able to play your music and set your mood lighting, but also surf the internet from your favorite spot in the house!
Software
SERVICES
DLNA 1.5: DMR Certified, DMS
Internet Radio: Optional – vTuner
Music-On-Demand: Optional – Deezer
MEDIA FORMATS
MP3 (up to 48kHz, CBR & VBR)
AAC (up to 48kHz, 8-320 kbps)
WMA (up to 48 kHz, CBR & VBR)
LPCM (up to 48 kHz, up to 1.42 Mb/s)
WAV (up to 48 kHz, up to 1.42 Mb/s)
VOLUME CONTROL
Via mobile phone Wi-Fi
Via remote control
Hardware
LIGHT
White lighting: temperature adjustable from warm white (2700k) to cold white (6000K)
Color lighting: 16 million possible combinations.
Adjust lighting Intensity
Light Power: 7W equivalent to 40W incandescent
Lumen output: 375 lm (white)
SOCKET
EU Version: E27 socket
US Version: E26 socket
AUDIO OUTPUT
Amp Class D
13W mono, 10% THD
SPEAKER
Size: 2 inch, 8ohm
Range: 200Hz – 20000Hz
remote control
Infrared remote control
Light control: On/Off button
Color light control: color cycle
Light dimming up, down buttons
Volume Control: up, down, mute
5 preset buttons
Power supply
EU Version: Bulb LED 110-240V
Power: 25W maximum
Dimensions
Millimeters: 111.5 (H) x 95 (W) x 95 (L)
Inches: 4.39(H) x 3.74 (W) x 3.74 (L)
Weight
680 g (approx.)